Restrict your View: No Photography Security Labels
The pervasive use of smartphones in our modern world ensures that the taking of a photo or a video is as simple as reaching into your pocket; it is something that we all now take for granted in our day-to-day lives.
However, the ease with which any individual can now take a photograph or video on their phone presents a major challenge to any business or organisation welcoming visitors to their premises, whilst also needing to safeguard their own security interests. Such privacy and security concerns come in many forms: for example, it could be a manufacturer who wishes to protect technical know-how, or a government or public agency that wishes to restrict knowledge of sensitive infrastructure, layouts or procedures.
One solution to this problem is to ask visitors to surrender their phones, laptops or other electronics at point of entry; however, this is a rather blunt tool and comes with its own procedural headaches in regard to collection and re-distribution of devices. It is also risks offending visitors who understandably would prefer to keep valuables in their own possession.
Universeal SecureCam tamper-evident camera security labels offer a more flexible and effective solution to camera phone security. SecureCam no photography camera labels are available in a range of sizes and colours, and can be placed over phone or laptop camera lenses quickly – preventing pictures or videos from being taken. Any attempt to remove security labels and then replace in order to take a photo with the camera will clearly be demonstrated by a 'void' message, which appears throughout the entire SecureCam label as soon as the label is removed.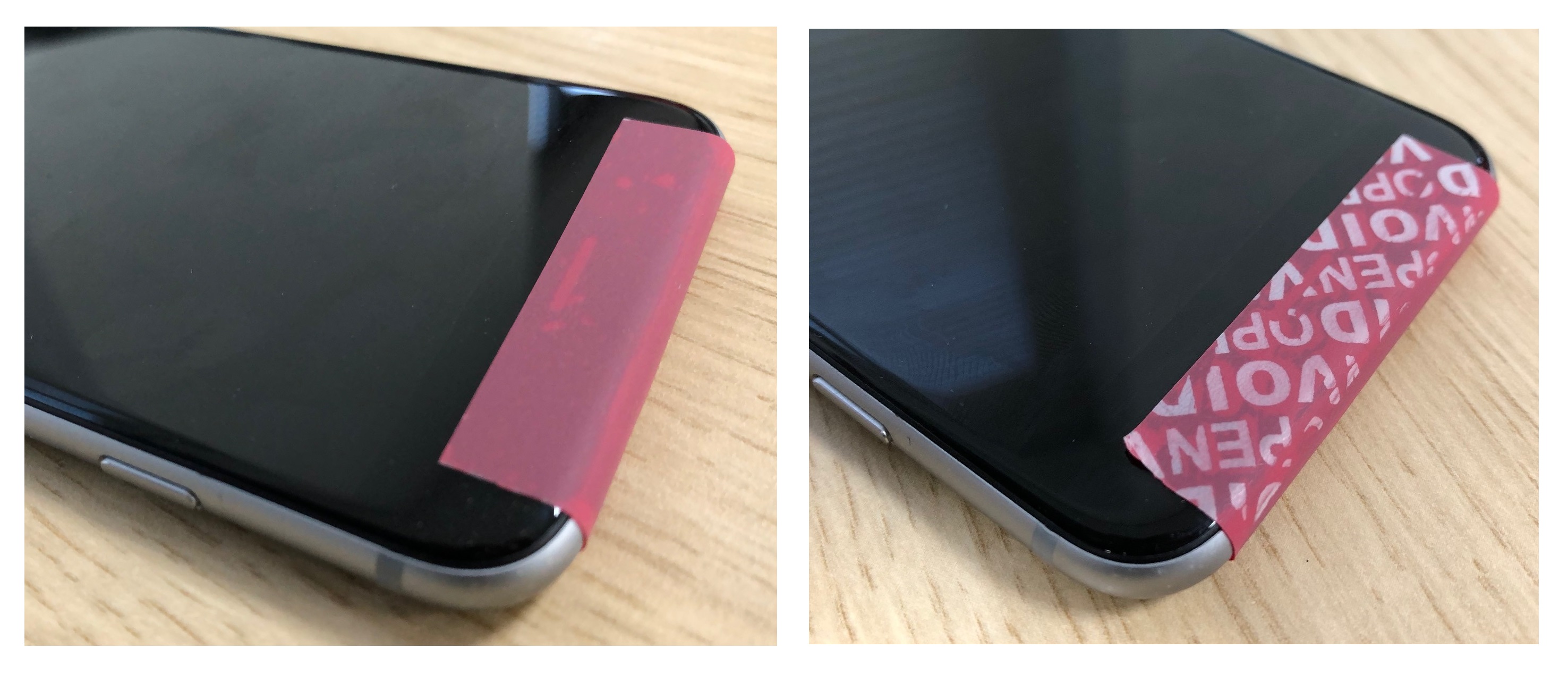 Our SecureCam labels are produced from a no-residue tamper-evident material, which means they do not leave any void material on devices once removed, and can be easily disposed of once no longer required. Each label is uniquely numbered, and application and recording of security labels can be easily incorporated into visitor registration identification procedures.
We offer SecureCam no photography labels in standard stock sizes, and can also customise for your own requirements; including your own custom size labels, company logo, unique marking, and security numbers.
If you have security concerns over the use camera phones within your workplace or organisation, please give us a call today to discuss how Universeal UK can assist you with our no photography security labels.