Security seals can be marked in a number of different ways with a variety of print methods, incorporating company names, logos, sequential numbering and barcoding. Most commonly, our production facilities use laser, thermal transfer or hot-stamp print methodologies, and each marking type brings its own advantages and disadvantages, and is suited to particular types of application.
We categorise these marking types with different levels of security, High, Medium and Low:-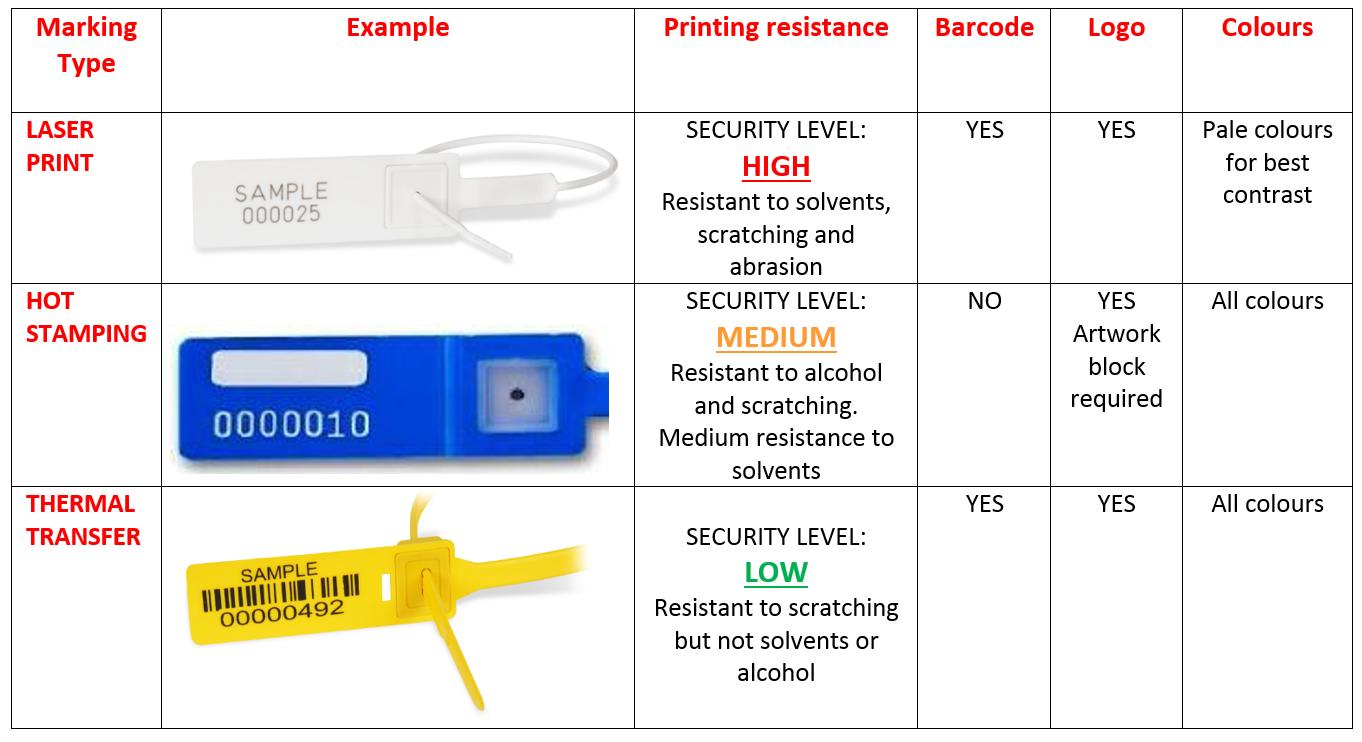 When choosing the most suitable print method for your security seals, it is important to take into consideration the application of the seal - how it will be used and handled; for how long will it be in use; and in what kind of environments the security seal will be expected to perform.
For example, a seal intended for outdoor use would require the most resistant laser marking to ensure resistance to the elements, including UV light emitted by the sun, temperature changes and moisture.
Conversely, for barcode readability on a security seal being used inside or in darker environments, thermal transfer print provides the best contrast and barcode scan-rates, although thermal print can degrade if the seal is likely to come into contact with solvents or abrasion. In this case laser-print barcoding is an option, although we recommend printing on pale colours only to ensure the barcode scan-rates remain high.
Another option, available on particular models of identification ties and security seals, is hot-stamping (also known as hot-foil engraving). Hot-foil prints are indelible, and have medium resistance to chemicals or solvents – they are particularly suited to printing on products which are more difficult to laser-print effectively, such as nylon cable ties and security seals. Hot-stamping is also particularly suited for applications in which users wish to hand-write on the security seal, as hot-stamped white areas can be easily written on using a variety on pens and permanent markers.
If you are in doubt as to the best marking type or the most suitable security seal for your application we are happy to talk you through the best options. Please give us a call on 01829 760000 to discuss your needs today.