Security has never been so fashionable! Protect online sales with a returns policy protected by security seals

The growth of online fashion retail as a global trend continues, as customers increasingly enjoy the benefits of free, no-hassle returns when their purchases prove to be not to their liking – be that for reasons of fit, design or buyer's regret.
However this also presents online retailers with a challenge; how can they stop the more unscrupulous consumer from wearing an item once or multiple times, only to then return the item with the clothing tag in place for a full return or exchange? Conventional clothing tags are small, unobtrusive designs which can easily be tucked inside the garment, pockets or in other ways hidden whilst being worn. Additionally, tags are generally attached with simple, low-cost ball ties or other plastic fasteners which are easily purchased online and replaced by buyers themselves.
Retailers are increasingly deciding to despatch online items such as clothes, hand-bags and other garments with true security seals such as the Universeal TabLOCK seal, UNI416 or UNI414 security seal. Security seals feature sophisticated tamper-evident locking chambers which are resistant to attempts to open the seal without destroying the seal, preventing its reinstatement.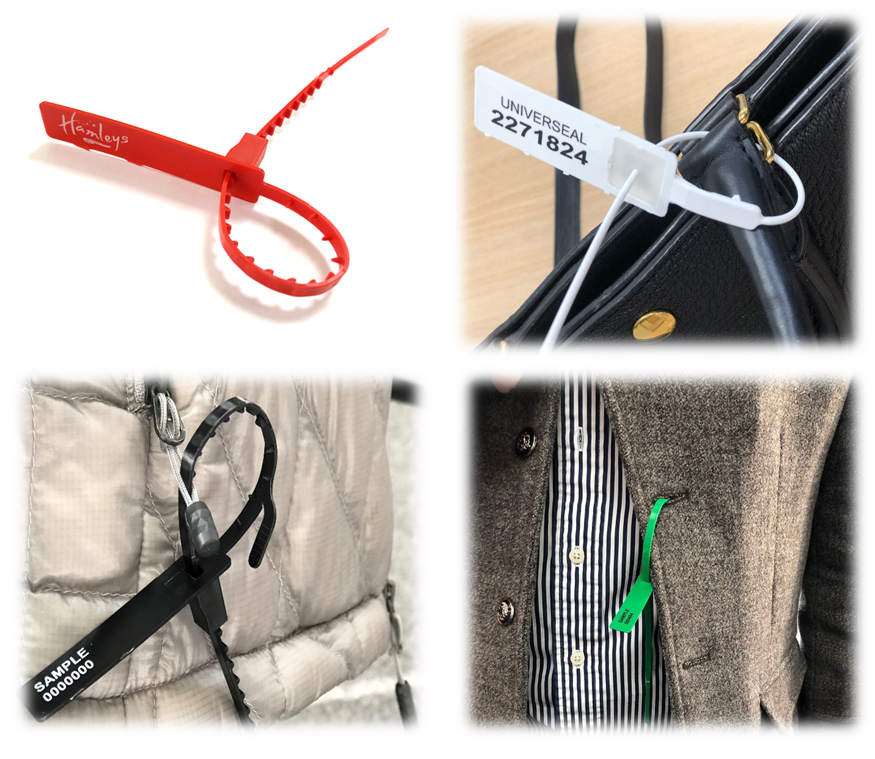 Universeal security tags feature large and prominent paddles which can be custom-printed and branded with your logo and text to convey your brand identity and advise users that a garment cannot be returned if the tag is removed. The security tag can then be sealed through prominent garment or handbag buckles, loops, button-holes or other features in such a way that it is not possible for consumers to realistically wear or use the item without first removing the security seal from its prominent position.
Using pull-through security seals as branded clothing return tags in this way serves to provide online retailers with a security check not available with standard clothing tags. It also acts to discourage unscrupulous purchasers who may be tempted to otherwise return items for which they are not legally entitled to a refund. It therefore helps online retailers to provide legitimate buyers with the option to return items with which they are genuinely unhappy, but prevent those looking to gain 'something-for-nothing' from taking advantage of no-hassle returns policies.
Universeal is a manufacturer and distributor of a wide range of security seals, security labels, tamper-evident packaging and identification fasteners in logistics, retail and across industry. Please give us a call on 01829 760000 or email us [email protected] to discuss your security needs with us.